Your son or daughter's mission call opening is such an exciting occasion! It is so amazing to watch someone faithfully read the place where the Lord wants them to serve for 18-24 months of their life.
I think it is super important to acknowledge that your child's mission call opening doesn't have to look like anyone else's mission call opening. Please talk to them about what they are hoping for and plan accordingly. While you might want it to be a small, family only gathering…your child might want lots of friends there!
A Mission Call Opening can be a wonderful missionary opportunity. It's a very natural way to talk about The Church of Jesus Christ of Latter-day Saints as you explain about missions and your friends, family and neighbors celebrate this huge milestone.
Types of Mission Call Openings:
Private: Maybe your son or daughter doesn't like a lot of fuss and attention. Our neighbor went to the temple and opened his mission call sitting outside on the grass, then texted his family to let them know where he would serve.
Family Only: This can be a great option if you want to celebrate but don't have time or energy to entertain a lot of people.
Family and Friends: If your future missionary wants this, the more the merrier! Invite friends family and neighbors to watch them open their call!
4 Things you can do to get ready before receiving the mission call:
Decide what the mission call opening will look like: Talk to your son or daughter about what type of mission call opening they would like and honor that decision! I can totally understand feeling nervous about reading such a momentous thing in front of a crowd. Let them make the call (no pun intended).
Give family/friends a heads up: If you are inviting friends or family, tell them once you've turned in the paperwork so they can pencil you in for the next few weeks! (Read this post to find out when to expect your mission call). We told my family that we planned to open it the same day he got it…so to pencil us in for the next 2-3 Tuesday evenings.
Purchase mission call opening supplies (optional…read my recommendations below): Even before you get the call (honestly while you are filling out paperwork!) you can buy party supplies if your son or daughter wants to have a bigger gathering.
Food Prep (optional) : If your son or daughter plans to open the call the same day they receive it, you won't have a lot of time to get food prepared. Choose food that can be prepared ahead of time and frozen OR that you can pick up pre-made from a store. Some ideas: cookies, brownies, breads, rice krispy treats.
This post contains affiliate links. This means, I will get paid a small commission (at no cost to you!) if you purchase products through my links. I work hard to find products that are recommended by other missionaries and missionary moms and/or that I have personal experience with and love. I also read reviews and ratings to make sure that I am offering up the best possible option available for your missionary. You can read more in my full disclosure. As an Amazon Affiliate I earn from qualifying purchases.
Best Supplies for Mission Call Opening
I want to start this section off by telling you not to feel bad if these items aren't in your budget. The best part of the mission call opening is the opening! All the rest of this stuff is unnecessary fluff. It is fun, but if you can't afford it, do not worry!! Your mission call opening will be amazing no matter what.
Here are some supplies you can purchase that are fun and festive for your mission call opening.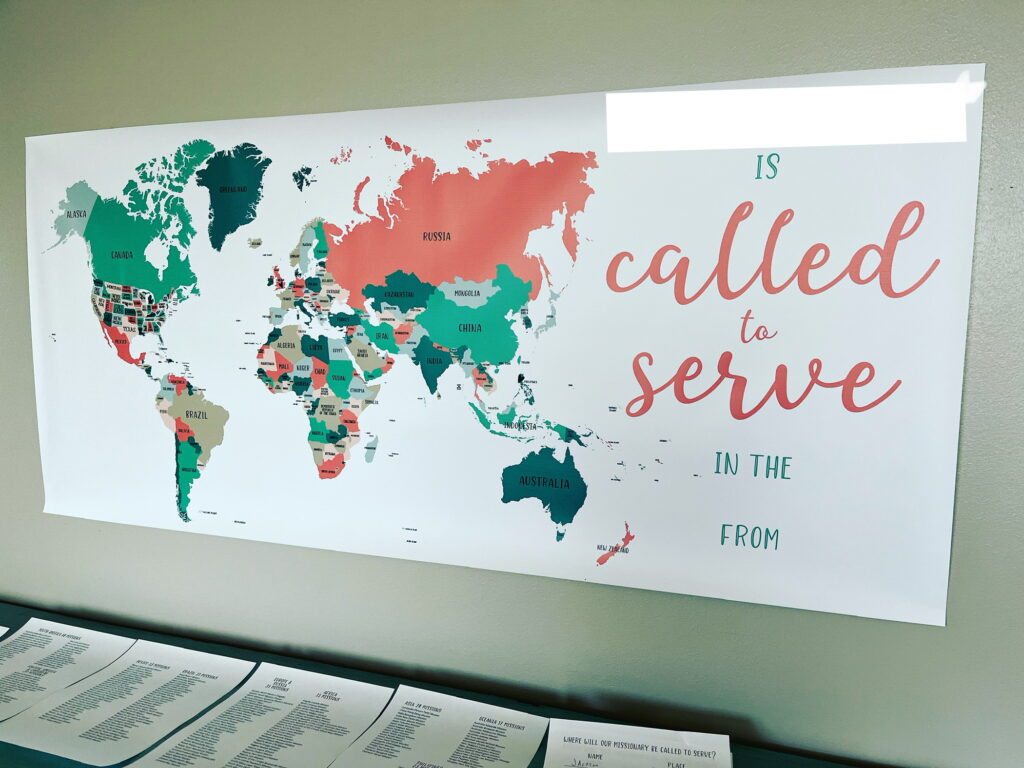 Mission Call Maps
I was absolutely thrilled with the quality of this mission call opening map from Bramble and Grove. There are options to download it digitally or order a physical map. We ordered the missionary party pack. The map is on high quality vinyl and includes 3M removable wall hanging stickers, a permanent marker, vinyl hearts for people to place their guess on the map, along with a printable list of all of the current missions AND a mission guess chart. Seriously, everyone LOVED this map!
This Digital mission call opening map is a 24" x 36" digital download and can be printed at a local printing place (Office Depot, Costco etc). It also comes with printable labels for guests to make their guesses.
This Digital Mission Call Opening Map with Banners set includes a beautiful map, and lots of printable decorations including a flag banner and water bottle labels. Super cute! There is also a more feminine version available.
This Digital Mission Call Opening Map with Cupcake Toppers is another cute option!
I would also grab these write on sticky labels for people to make their guesses! You can send the extras with your missionary to mark important scriptures.
Mission Call Opening Decorations
This International Flag Banner would be a great addition to a mission call opening! It has 100 different country flags (including USA) and measures 98" x 66."
Earth Balloons would also be great for mission call opening decorations.
A scratch off world map would be super fun! This one includes a world map and a map of the United States of America. Have everyone scratch off the place they think your missionary will get sent.
I love these Adventure Awaits tableware is beautiful! It includes 24 napkins, plates and cups.
Or you could go with a more colorful world flag tableware.
You can make this DIY Bunting Pennant Flag say "Called to Serve" or "Adventure Awaits"
Photos/Video/Livestream
Livestreaming the mission call on Instagram or Facebook is a wonderful way to share this exciting moment with friends and family who can't attend in person. I would recommend asking someone before hand to do the livestreaming for you! One or two of your missionary's friends is a great choice. You'll need to give them your phone, but they should know how to make it happen. No help? No problem! Here are instructions on how to do a Livestream on Facebook and How to do a Livestream on Instagram.
Make sure you get lots of picture during the mission call opening…especially the people who attended.
Ahhh, watching your child open their mission call is such a special and momentous occasion. Try not to worry too much about logistics and just enjoy the spirit and joy you feel!